Profile

Danny qualified as an osteopath from the British School of Osteopathy in 1996 with a BSc (Hons) Ost.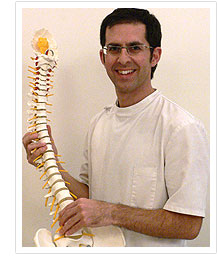 After moving to Israel in 2000 Danny spent his first 2 years working in Haddassah Hospital before moving to his private practice in Katamon, Jerusalem.
Danny is the chairman of the IOA (Israeli Osteopathic Association) and the founder/director of COFI (Classical Osteopathic Forum in Israel).
In 2003 Danny studied psychotherapy at Hebrew University and attended various group-relations seminars run by OFEK.
Danny is a professional associate of the Tavistock Institute directing a series of seminars entitled "What is the patient really telling me?" aimed at helping medical practitioners understand the psycho-dynamics of the patient-practitioner relationship.
He also lectures to the Northwick Park Hospital General Practitioner training course.
In the UK Danny worked on the National Health Service and in his private practice in North London. He worked as a clinic tutor in the British School of Osteopathy (BSO) and at the Osteopathic Centre for Children (OCC).